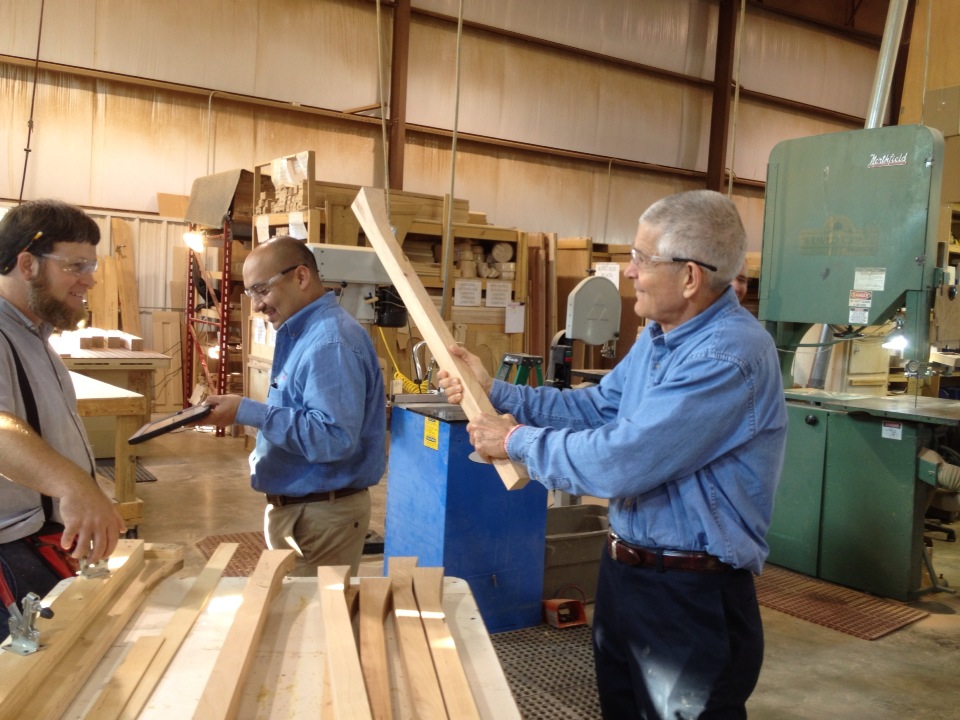 As Jim "Mattress Mack" McIngvale, owner of Gallery Furniture, like to say, "ENERGY and ENTHUSIASM rule the day." Sayings like these, known around Houston, Texas as "Mackisms," are Mcingvale's way of inspiring those around him to be their best everyday. One of McIngvale's Mackisms – "If it is to be… it's up to me" – is especially apparent in the career of Roy Ortega, who's worked at Gallery Furniture for over 16 years.
Eight years ago, frustrated at the quality of some of the wood furniture carried by in the furniture store, Roy Ortega took the opportunity to fix the problem.  These days, he makes 2 or 3 trips a month, all round the U.S., to source the solid wood furniture the store carries. Ortega says: "When I began here, I never imagined where my work would take me. It's been quite an adventure."
"The difficulty of sourcing handcrafted, solid wood furniture is that you can't just back a truck up to a factory and order everything you want. Today we have the relationships in the Amish community – developed over nearly a decade – to supply the kind of quality, solid wood furniture Houstonians want. Many of these partners run small-scale, family operations. At first, there were those who would not sell to a furniture store."
"Still, we wanted to offer their furniture in Houston, so that Houstonians wouldn't have to travel to Ohio or Indiana to buy the kind of quality these craftsmen produce. At the same time, we didn't want to overload the craftsman, or have them abandon their traditions. So over the past eight years, we've developed relationships with around 60 partners in the Amish community."
"These relationships took time to develop, but I knew we were making progress. During one visit, I received a very special invitation to dinner," Ortega says. "It was getting late in the day. As things wrapped up in the shop, the craftsman invited me to his home to have diner with his family." The diner bell rang. As Ortega made his way toward the house, he was met by the smell of home-cooked chicken and potatoes.
"As I sat down, it struck me how solid the chair was. It did not wobble, squeak, or tilt," Ortega says. He joined them in saying grace, and then everyone savored the homegrown meal. "As we ate, it occurred to me that the table didn't have a covering, and so I began to ask about the table." He learned that the table and chairs had been made around one hundred years ago, by the craftsman's grandfather. His father had not only passed the table, but also the skills he used to build similar pieces today.
"This tradition of craftsmanship, passed from generation to generation – and from father to son – is the spirit behind every piece of solid wood furniture we carry. The furniture is not only made in America. It's made by families that Gallery Furniture is proud to partner with."