Solid Wood – Lasting Style! Smart Investment!
When you purchase solid wood furniture that is Made in America from Gallery Furniture you know exactly where is it from! Our experts have most likely even met the craftsmen who made it! Invest in the comfort of your home with the lasting value of high-quality solid wood!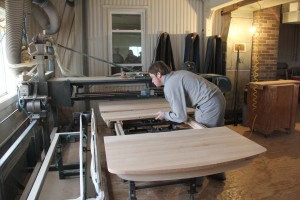 The benefits of purchasing solid wood furniture that has been made in America are seemingly endless. However, one of the most enticing benefits might be that this furniture is fully customizable.
From the style of the furniture to the actual solid wood species used and the finish color, it can be left up to the buyer how they want their piece to look. This allows for personal taste and character to be reflected in the furniture and the homes of those purchasing.
Along with the opportunity for customization comes the great attention to detail that the building of this furniture allows for. Since these made in America pieces are constructed from solid wood, there are certain details that must not be overlooked to ensure the quality and longevity of the furniture. Not only are aesthetic details such as fine accent work and hidden trim connections incorporated, but processes such as "dark wrapping," are used in the building stages to protect sun-sensitive solid wood species.
Also, humidified production storage is used to prevent the solid wood from warping and cracking. As a bonus, much of the construction and shipping processes use eco-friendly methods, such as recycled, multipurpose ventilation systems, and reusable blankets when wrapping the furniture for transport.  All of these factors make it clear that when choosing to purchase furniture, it would be most beneficial to choose these solid wood, heirloom quality pieces.